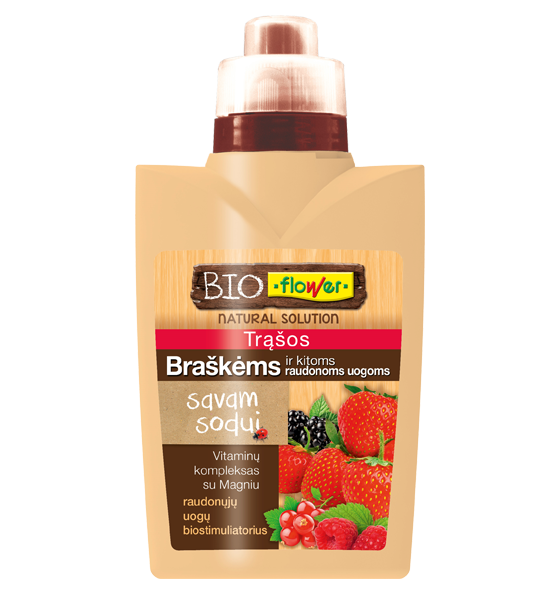  
STRAWBERRY & RED BERRY fertilizer FLOWER / 500 ML
Bio stimulant for

Strawberries and other red berries with vitamin complex & with Mg.
Ideal fertilizer in order to get vigorous colour and optimum maturation of strawberries and red berries like raspberry, redcurrant, blackberry etc … 
Dose and way of use:
To use the dispenser cap and dilute half cap into 2 L of water (or) 1 cap into 4L of water.
To shake solution before using. 
Season period:
Fertilize once a week during its ideal period and the rest of time every 15 days.

EC Fertilizers.
Composition:
Enriched with natural amino acids.
NPK fertilizer solution 3-6-6 with trace elements.
Nitrogen (N) Total:
Nitric nitrogen 1,3%,
Ammonia nitrogen 0,7%.
Amide nitrogen, 1%.
Pentoxido of phosphorus (P2O5) water soluble, 6%.
Oxide of Potassium (K2O) water soluble, 6%.
Trace elements:
Iron (Fe), 0.06%;
Manganese (Mn) 0.03%;
Water-soluble elements chelated with EDTA.

Quality Guarantee
Data sheet
Product Code

8426584108536

Package Capacity (L)

500 ml

Units per Palett (pcs.)

864